Rules and Specifications for the BS&D Identity
Below are the approved logos and colors for the Beyond Spots & Dots brand. These are intended to be used by media outlets.
---

The Beyond Spots & Dots Logo
The Beyond Spots & Dots logo consists of two elements — the Beyond Spots & Dots symbol and the wordmark. The Beyond Spots & Dots logo is a unique piece of artwork. The proportion and arrangement of the symbol and wordmark have been specifically determined. The logo should never be typeset, recreated or altered, which could cause inconsistencies that dilute the impact of the brand's power.
Download:
---

Tagline Version
The tagline captures the services areas in our expertise. The tagline is graphically interlocked with the logo for use on selected media, such as, business cards, TV commercials, T-shirts, etc. This treatment is one piece of artwork and should be scaled up or down as a unit, not as individual elements of logo and tagline.
Download:
---
Clear Space
To preserve the Beyond Spots & Dots logo's integrity, always maintain a minimum clear space around the logo. This clear space isolates the logo from competing graphic elements such as other logos, copy, photography or background patterns that may divert attention. The minimum clear space for the Beyond Spots & Dots logo is defined as the height of the "B".
This minimum space should be maintained as the logo is proportionally enlarged or reduced in size.

---
Constraints
The Beyond Spots & Dots logo should appear no larger then ¾ the width of the total image area and no smaller than 1.75' wide. Exceptions are allowed for banners, out-of-home media where copy is minimal, and promotional items where image area is dictated.
Logo should never appear stretched or distorted.
Logo should be no smaller then 1.75" on an 8.5 x 11" page.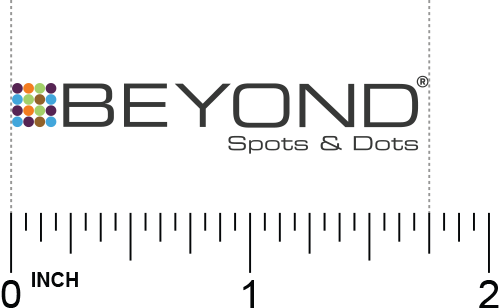 For all usage of our brand, you may not:
Alter our logo in any way.
Place our logo in such close proximity to other content that it is indistinguishable.
Use our logo in a way that suggests any type of association, partnership, approval, sponsorship or endorsement by Beyond Spots & Dots. (unless allowed by Beyond Spots & Dots)
Use our logo in a way that is harmful, deceptive or obscene to anyone.
Use our logo to, or in connection with, content that blemishes us or dishonors our reputation.
Official Mission Statement
Our primary goal is to help our clients define and achieve their advertising, marketing, branding, PR, and digital objectives by producing accurate, high quality deliverables during long-term mutually beneficial relationships. We dedicate ourselves to bringing clients inspiring ideas, customized strategy, tailored media plans, striking creative, and technical expertise through a selection of opportunities.
Our further goal is to create a healthy and rewarding company culture which promotes teamwork, creativity, discipline and excellence. Our success will be a by-product of achieving these goals.
---
Official About Us
Beyond Spots & Dots is a full service advertising agency with global reach dedicated to creating, planning and handling advertising for its clients. We have big agency talent with small agency overhead and expenses. Our results-oriented agency model allows us to create advertising campaigns that are deemed successful through a positive ROI.
We deliver bottom line sales results and know how to remove you from the clutter and create a greater share of voice to promote your product/service in a more cost-efficient way.
We strive to work with clients who are passionate about what they do and who are interested in growing their business through a collaborative partnership. We believe in the power of advertising and take calculated risks to achieve breakthrough results. We believe that a strategic advertising plan can make a difference in your business.
If you are ready to grow your business and increase your bottom line, allow Beyond Spots & Dots to help achieve your sales & marketing goals.
---
Color Palette
The Pantone values are referred to as "spot" or "solid" colors, which are created using a unique ink and mixing formula developed by Pantone for precise color accuracy.
"Process color" refers to the CMYK values for 4-color process printing. Process colors are represented as percentages of cyan, magenta, yellow and black in varying percentages for thousands of color possibilities.
For on-screen and web applications (PowerPoint®, video, broadcast, web sites, intranets, extranets), refer to the RGB/HEX values specified.
CMYK
RGB
HEX
---
Background Colors
These colors are only to be used as a background color behind the Beyond Spots & Dots logo. These slightly darker versions of the blue and orange allow the dots in the logo to appear and not blend in with the logo.

C: 81 M: 33 Y: 15 K: 0
R: 22 G: 140 B: 183
HEX: #168CB7

C: 4 M: 82 Y: 100 K: 1
R: 241 G: 86 B: 35
HEX: #F05522
---