Women-to-Women Grant Program
Beyond Spots & Dots' Women-to-Women Grant Program Awards $15,000 in grants to women-owned small businesses
We believe in the power of women and the importance of sustaining women-owned businesses. Our Women-to-Women Grant Program will help women continue to lead, particularly those who have been negatively affected by the COVID-19 pandemic.
Layoffs. Furloughs. Businesses and schools closing their doors. This has been the unfortunate reality for many during the coronavirus pandemic and subsequent stay-at-home orders. In an effort to help support women-owned businesses struggling to maintain production, commerce and/or staff as result of the devastating COVID-19 outbreak, we are launching our Women-to-Women grant program, which offers $15,000 total in grant funds to three women owned businesses, with each receiving $5,000.
"This has been a tough time for women leaders. We want to celebrate the extra work women are doing these days," said Melanie Querry, Founder and President, Beyond Spots & Dots. "As a woman-owned company, we're incredibly fortunate to have been able to sustain our business through such a difficult time. We want to pay that forward and ensure if we are able to offer a helping hand, we do, and to the people who need it most. We're committed to the community."
Beginning June 1, 2020 through July 15th, we will be accepting applications from female business owners in the communities we serve. Of these applicants, three businesses (one Pennsylvania business, one Ohio business, and one Maryland business) will each receive a $5,000 grant to sustain their businesses. 
If you are a women-owned small business located in Pennsylvania, Ohio or Maryland, we would like to support you. 
$15,000
A total of $15,000 in small business grants avaialable. We will award three (3) women-owned small businesses a $5,000 grant each.
 
Application deadline of July 15th has passed. We are unfortunately no longer taking applications.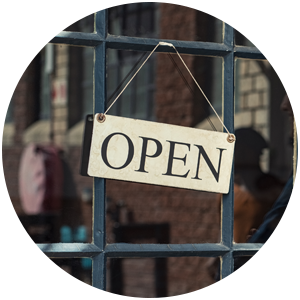 When Women-Owned Businesses Succeed, The Community Thrives
To Apply You Must Be:
Women-owned business (a woman must be the majority shareholder)

Small Business with less than $5 million in annual gross revenue

25 or less full-time employees

A business with an address in Pennsylvania, Ohio or Maryland
Grant Program Important Dates:
Applications accepted June 1st, 2020 - July 15th, 2020
Finalists will be posted to website on or about July 31st, 2020
Grant awardees to be posted to website on or about August 15th, 2020
Grant disbursements to be sent on or about August 31st, 2020
$15,000 in Grants:
One $5,000 grant to a Pennsylvania based women-owned business
One $5,000 grant to an Ohio based women-owned business
One $5,000 grant to a Maryland based women-owned business
Official Rules:
To view the complete list of the Women-to-Women Grant Rules, please click on the link below.